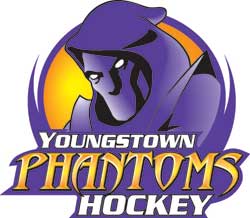 Youngstown Phantoms
YOUNGSTOWN, Ohio -
The boys of winter are back at the Covelli Centre to start the regular season off on the right foot.
The Phantoms will play back to back games against Central Illinois.

Defenseman Jake Gingell said starting the season at home is a plus.
"We take pride in protecting our ice at Covelli and not losing," Gingell said.
Forward Eric Esposito agrees. "You always love the home opener especially when it's the first game and you don't have to be on the road," Esposito said. "You get to get right into the grove of things, right into your routine at home, for all the home games."
Although Defenseman Andrew Petrillo said there's a lot of new faces on the team, he's still excited to see where the new roster will take the Phantoms. "We do have a lot of new guys this year, the core group we have as returners have been very good so far bringing the new guys up to speed," Petrillo said. "We're very close already."
Troy Loney, co-owner of the Phantoms, said how far the team can go is dependent on how the fresh faces on the team develop. "We have a lot of creative guys on offense and that creativity is really interesting to watch, that will develop," Loney said. "You got to flush out that other part of your game."
Coach Brad Patterson said before thinking about winning the Clark Cup, the team needs to mature. "There's a lot thing that goes into that beforehand, showing up to the rink and getting better every day," Patterson said.