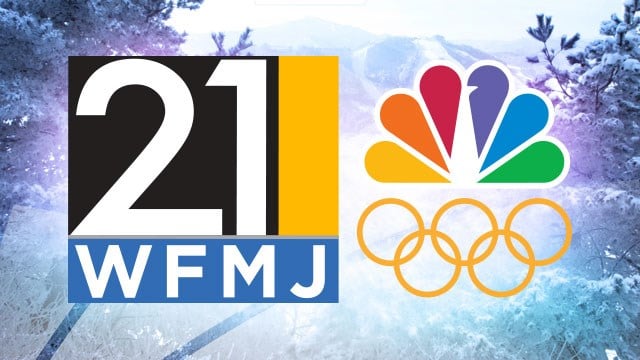 Below is the 21 WFMJ schedule of Winter Olympic coverage.
Saturday, February 17, 2018
3:00 p.m. - Biathlon, Freestyle Skiing, Cross-Country
Susan Dunklee, who last year became the first American woman to climb a Biathlon world championships podium by taking silver in the 12.5km mass start, brings contender status to that event in PyeongChang. Team USA also could make history by capturing its first-ever Olympic medal in a women's Cross-County event, as Jessie Diggins and Co. have podium potential in the 4x5km relay. Also: In Freestyle Skiing, Americans Jon Lillis and Mac Bohonnon join gold-medal favorite Qi Guangpu of China in men's aerials qualifying.
8:00 p.m. - Alpine, Freestyle, Skeleton, Ski Jumping, Short Track
Ted Ligety, already the only U.S. man with two Olympic Alpine gold medals, seeks a third in his specialty event, the giant slalom. After sweeping the Freestyle Skiing men's slopestyle podium in 2014, Team USA begins a fresh run at multiple medals with Sochi silver medalist Gus Kenworthy among those in qualifying-round action. The Short Track venue should be electric as host South Korea boasts multiple medal contenders in the men's 1000m and women's 1500m events. Jacqueline Loelling, 23, seeks Germany's first Olympic gold in Skeleton a year after becoming the sport's youngest female world champion. Also: In Ski Jumping, the men's individual large hill final could see a duel between reigning world champion Stefan Kraft of Austria and defending Olympic gold medalist Kamil Stoch of Poland.
Click here for the latest medal count and more Olympic news!