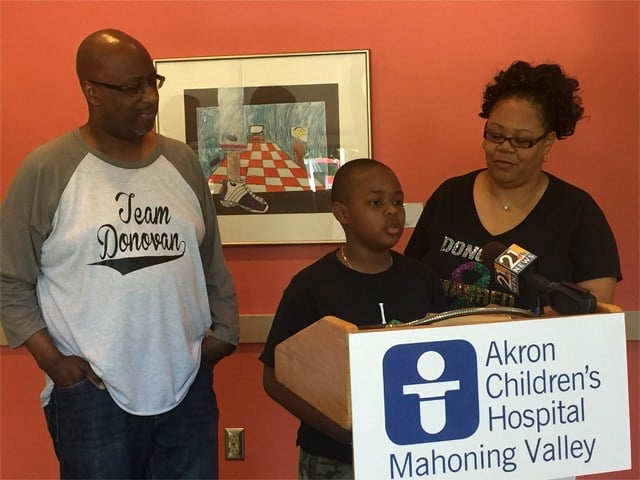 WARREN, Ohio -
A young cancer patient and his parents from Warren will take part in a special mission to Washington, D.C. in support of children's health.
The event is sponsored by the Children's Hospital Association and Akron Children's Hospital.
Nine-year-old Donovan Stringer was enjoying a day with friends at summer camp on Thursday. It's been nearly two years since his parents were told that Donovan had a rare form of liver cancer. "We were terrified, my wife and I," said Kevin Stringer.

But now they are giving thanks that Akron Children's Hospital had the protocol in place to attack the cancer.

"The process was scary but we were comfortable and confident that they knew what they were doing and we trusted them with our baby," Lisa Stringer said.

On June 26th, the family will join a contingent of patients from 30 children's hospitals that will visit legislators in Washington to share their stories and urge continued support for treatments and programs that families need.

"And his hope is they continue to find cures and educate so we can save other children," said Lisa.

"Even young Donovan knows the importance of having children's hospitals with trained doctors and nurses that only treat children.

"They all helped me get better because they were all in a children's hospital, and I think that if it wasn't just a children's hospital that it wouldn't have had that much care," Donovan said.
The families also will urge members of Congress to support a strong Medicaid program which often is the safety net for families struggling with overwhelming medical bills. Plus, continued funding for training and educating future generations of pediatricians.
A total of 47 children will be part of the advocacy day in Washington.