News
Bear sightings reported in Austintown
The latest bear sightings in the Valley were reported Thursday morning in Austintown.
Thursday, June 10th 2021, 10:44 AM EDT
 The latest bear sightings in the Valley were reported Thursday morning in Austintown.
A resident of Woodland Trace sent 21 News a picture of a young black bear standing on his hind legs, trying to get into a backyard bird feeder.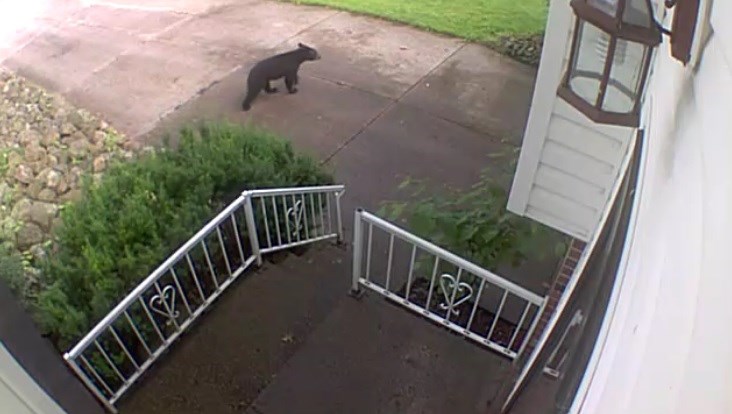 A camera on a front porch recorded a bear walking across a driveway along Birch Trace.
 Not far away on the other side of the Kirk Road water tower, a viewer sent a picture of a bear crossing Darbyshire Drive.
It isn't known if they are the same bear.
Over the past few days, bear sightings have been reported in Canfield, Boardman, and New Middletown.
According to the Ohio Department of Natural Resources, black bears are usually fearful of people, and bear attacks are rare.
Bears do not attack or kill children or pets as long as the bear is given its space and not cornered, according to the ODNR Wildlife Division.
The first thing to do when you see a bear is to remain calm. Generally, black bears are non-aggressive and prefer to flee from the area as soon as they are aware of your presence.
If you encounter a bear, and it is not aware of your presence, simply back away from the area slowly. If the bear is aware of your presence and it does not leave the area, avoid direct eye contact with the animal, give the bear an easy escape route. Simply back slowly away from the area. Always avoid running or climbing trees, which may provoke a chase.
An easy way to remember this is to be AWARE:
Act calm and do not run.
Warn the bear that you are near; talk in a firm, calm voice.
Allow space between you and the bear. Step aside and back slowly away. Do not make the bear feel trapped or threatened.
Raise your hands above your head to appear larger if the bear approaches. Clap your hands or shout to scare the bear away.
Exit the area.
There are several things you can do to "bear-proof" your backyard.
Bird feeders and other wildlife feed: remove feeders, including hummingbird and suet feeders.
Trash receptacles: store your garbage either in a garage or a secure container.
Pet foods: keep pet foods inside, especially at night.
Grease from grills: clean out grease traps after each use; store grill in garage or shed.
Secure beehives: place electric fencing around beehives.
Crops: pick fruit from berry bushes as soon as possible; scare bears out of agriculture fields as soon as damage occurs