News
Bob Hagan challenges Michael Rulli to debate after Rulli accuses him of harassing customers
Rulli tells 21 News that he is open to a debate, but the debate must be under his terms.
Thursday, September 15th 2022, 2:12 PM EDT
Republican Ohio Senate candidate, Michael Rulli has accused his Democratic candidate, Bob Hagan of walking into his grocery store and harassing customers.
The allegations came to light after Rulli posted a video to his Facebook page of a man who is said to be Hagan walking inside the store, walking around the produce department and eventually leaving.
According to the Facebook post, Rulli was allegedly told by an unnamed source that Hagan had allegedly came into the store to harass customers.
"I didn't believe it until I saw it," Rulli said in the post.
However, in a statement, Hagan denies Rulli's allegations stating that the man shown in the video isn't even him and says he's demanding an apology and for the post to be taken down.
When asked for comment on Hagan's statement, Rulli told 21 News that he had witnesses confirm to him that it was Hagan.
"My dad and my brother were there. They all saw him. He can make up any kind of story he wants, but I know the facts," Rulli said.
Rulli went on to tell us that his dad and brother both approached Hagan and asked if they could help him with anything before Hagan left the store.
"If you come in my store and you start trouble, we're going to post it," Rulli said.  
However, Hagan told us that he was at YSU for a Teamsters event on the day of the incident and accused Rulli of using this to distract from other issues such as abortion and guns in the classroom.
Hagan tells us the best way for voters to hear both Hagan and Rulli's stances on these issues is for the two to have a debate.
"I want to debate him face to face and I want him to quit hiding from the people, the constituents and the voters," Hagan said.
Rulli tells 21 News that he is open to a debate, but the debate must be under his terms. Rulli says the debate would be a week before the election at the Mahoning County Republican Party Headquarters with his choice of who moderates the debate.
"If he wants to debate that bad, I'll do it under my terms," Rulli said.
Hagan went on to accuse Rulli of "endangering [his] family and "inciting violence" against him. 
"The extremists of his party have a track record on [violence]," Hagan said.
Rulli responded to these claims by calling them "illegitimate."
"The screenshots I have of what his supporters say about me are brutal," Rulli said.
This is not the first time the candidates have accused each other of lying. In late August, Hagan tweeted a picture of a burned yard sign for his campaign.
A statement from Rulli alleged that this was an "inside job." However, Hagan denies this stating that there is no evidence to support the act being an inside job.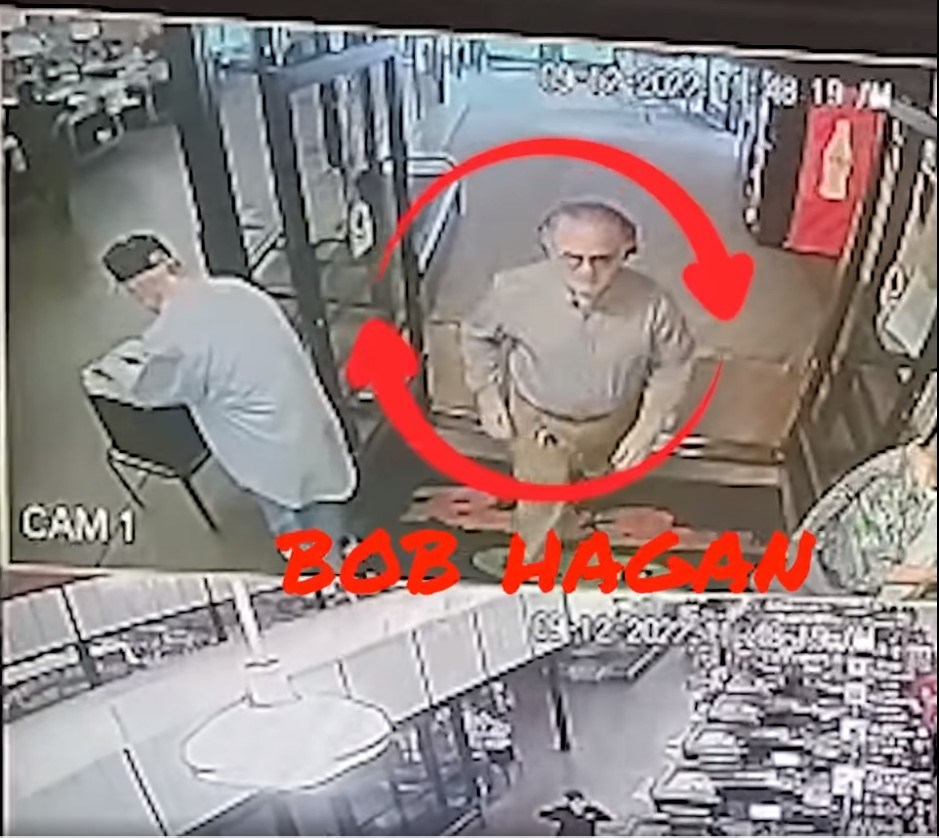 Hagan's full statement can be read below.
"For the second time in two weeks, Michael Rulli has made a false accusation about me and my campaign. Today, he posted security camera video on his Facebook page which purportedly shows me entering the store on Saturday, September 10, 2022 at 11:48 a.m. walking up an aisle, turning around and exiting the store at 11:49 a.m."
"The video is fake and Mike Rulli has made a false accusation about me and my campaign. I have never and never would step foot in his nonunion store. On Saturday, September 10, 2022, I was at home with my spouse, State Rep. Michele Lepore-Hagan and my daughter Natalia Hagan all morning."
"At 12:30 we left our home at ... Madera Avenue in Youngstown and drove to YSU where we attended a pregame tailgate party hosted by Teamsters Local 377. Pictures of me at the event are posted on the Bob Hagan for Ohio State Senate Facebook Page."
"In a post accompanying the fake video, Rulli asserts that I harassed people while in the store. In the video the person masquerading as me walks into the store, walks around, never talks to a soul and then exits one minute after entering. So not only was I not there, the fake me Rulli hired did not harass anyone. Mike, you and your henchmen should have given the guy better instructions."
"As I said when someone burned one of my signs in late August, there is no place for politics in this type of behavior, deceit and dirty tricks. I repudiated tactics like this and then asked Rulli to join me in doing so. He refused and instead lied and said the person who had placed the sign in their yard burned it himself. He went so far as to offer a $5,000 reward for video proving that was the case. Of couse, the $5,000 has not been paid because no such evidence exists."
"It is important to note that I never accused Rulli or his campaign of burning the sign. He is, however, clearly responsible for the fake video and the lies he is spreading about me. In light of that fact, I demand that he immediately remove the video from his Facebook page and other social media platforms, admit that it was faked and issue a public apology to me."
"I have also contacted my attorney and am prepared to pursue all available legal remedies to deal with this deplorable situation. Of course, given the false statements he made in the aftermath of the sign burning, I expect Rulli to accuse me of hiring the actor to walk through the store so he would post the video which would then give me an opportunity to accuse him of conducting a dirty campaign. Sorry Mike. If I had done it, I would have hired someone who actually looked like me, dressed like me and was not at least 25 pounds heavier than me."
"Finally, Rulli engages in stunts and employs tactics like this to deflect attention from his extremist views, like imposing forced birth on a 10-year-old girl who was raped and impregnated by a sexual predator, supporting laws that make our neighborhoods and families less safe and put law enforcement officers at risk and refusing to repudiate the big lie about the 2020 election or condemn that January 6 insurrection."
"No matter how often Rulli lies about me and my campaign, I will continue to do what I have always done: tell the truth and fight for working families."
Since the publishing of Hagan's statement, Hagan acknowledged the date on the security camera footage, Monday, September 12, did not reflect on the date listed in the statement, Saturday, September 10.
Hagan tells 21 News that he had previously misread the date on the footage, but says that during the time shown in the footage, he was at his home in a meeting.