News
Mercer woman promises apology for Capitol riot, government seeks 8 year prison term
Documents filed in federal court paint very different pictures of the Mercer County mother of eight who is scheduled to be sentenced next week.
Thursday, October 12th 2023, 7:16 AM EDT
Documents filed in federal court paint very different pictures of the Mercer County mother of eight who is scheduled to be sentenced next week for her role in the January 6, 2021, attempt to keep Congress from declaring Joseph Biden as the winner of the 2020 Presidential Election.
Attorneys for Rachel Powell and the Justice Department filed memorandums on Wednesday recommending sentences in preparation for the October 17 hearing when Powell goes before U.S. District Court Judge Royce Lamberth in Washington D.C.
The sentencing memo from Powell's attorney Nicholas Smith opens with an admission that his client "made exceptionally poor decisions on January 6," acknowledging that Powell pushed on police barriers as law enforcement officers were attempting to keep the mob at bay.
The memorandum, which admits that Powell broke a window on the Capitol, says Powell "is remorseful for her outrageous conduct that day. At sentencing, she will apologize to law enforcement and members of Congress and their staff."
The 24-page memo is accompanied by letters of support for the 43-year-old woman from three dozen friends, family members, clergy, and others, as well as family photographs.
Powell argues against going to prison, saying her fifteen-year-old son would be left to manage her family.
The memorandum outlines a difficult past for Powell:
Powell's upbringing was like something from Oliver Twist. Her parents routinely engaged in violent altercations in front of the small child. The family had no money. Powell's mother was addicted to drugs and alcohol. Beginning at age 12, Powell was sexually abused.
Claiming that Powell's "brutally harsh upbringing has led to disorders that leave her susceptible to manipulation—including of the sort that led her to the Capitol," Powell asks the judge to hand down a sentence of 24 months home detention, 200 hours of community service, and $2,000 in restitution.
Powell's memo also lists the cases of thirty other January 6th cases where those convicted were sentenced to either house arrest or probation.
The United States Attorney for the District of Columbia presents a vastly different view of the case, noting in a sentencing memorandum that Powell was involved in "violent altercations with law enforcement at the West Plaza, her smashing of a window at the Lower West Terrace with an ice axe and a cardboard pole.
The memo says that due to Powell's "encouragement and instructions to other rioters on how to "take" the U.S. Capitol, and for her utter lack of remorse" the government recommends a sentence of 96 months of imprisonment, three years of supervised release, $2,753 in restitution, and $555 in special assessment fees.
U.S. Attorneys characterize Powell as an active and enthusiastic participant in the January 6 attack on the United States Capitol which resulted in injury to more than one hundred police officers, and resulting in more than 2.9 million dollars in losses.
"Powell was one of the first rioters to break through onto Capitol grounds near the Peace Circle," according to the government's memorandum which goes on to say that Powell pushed against barricades and encouraged other rioters to attack the police line.
Prosecutors also say Powell entered the Capitol itself through a broken window and later used an ice axe and a battering ram to break through a different window, encouraging other rioters to enter the Capitol.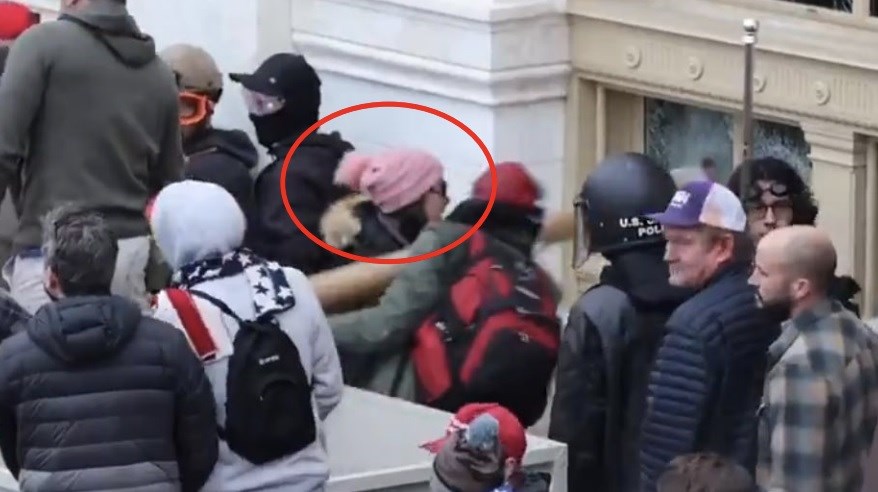 Despite the declaration in Powell's sentencing memorandum, the U.S. Attorney says, "After the riot, instead of remorse, Powell continued to call for political violence."
The government's memorandum includes snippets from Powell's Twitter messages and other social media to describe her actions both before and after January 6.
The memo recounts a November 22, 2020, discussion where Powell admitted conducting surveillance at a female legislator's home.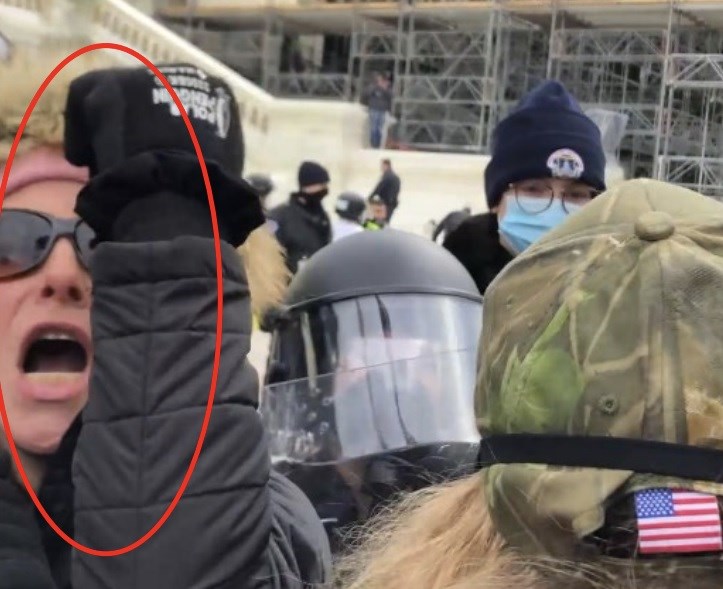 In addition, the government says Powell repeatedly bragged about the aggressive behavior of rioters, their violence towards law enforcement, and the eventual retreat of officers.
The government memo says Powell wrote on January 7: "IT WAS F***ING WAR TO GET IN. IF YOU WERE NOT HERE THEN STFU." In another post, U.S. Attorneys say Powell wrote: "We weren't f***ing welcomed in you f***ing idiot. You weren't even here so shut up and stop spouting facts like you know."
Government attorneys say that since her arrest, Powell has tried to portray herself as a victim and tried to shift personal responsibility and instead blames the police for her conduct on January 6.
Investigators claim Powell deleted evidence and tried to keep them from obtaining her iPhone.
"Powell is free to cast herself as a victim and refuse to accept responsibility for her actions on January 6. But the fact that Powell sees nothing wrong with engaging in criminal conduct in pursuit of her political goals should give this Court concern that she will continue to do so unless she is deterred by a significant sentence," according to Assistant U.S. Attorneys Lucy Sun, and Adam Dreher who composed the government's sentencing memorandum.