News
Angels for Animals pleading for help
A local animal shelter is pleading for help as pet adoptions slow, and surrenders continue to rise
Wednesday, June 15th 2022, 6:22 PM EDT
It's what many call "cat" season, in other words...prime breeding season for felines.
The combination of the increase in surrenders and the decrease in adoptions during the summer have stretched resources thin at Angels for Animals.
"At this current time, we're getting anywhere from 20-40 kittens and cats a day," said Diane Less of Angels for Animals.
254 cats have been surrendered to the facility in the last two weeks, volumes typically not seen until July.  Angels for Animals going to the lengths of social media posts to look for help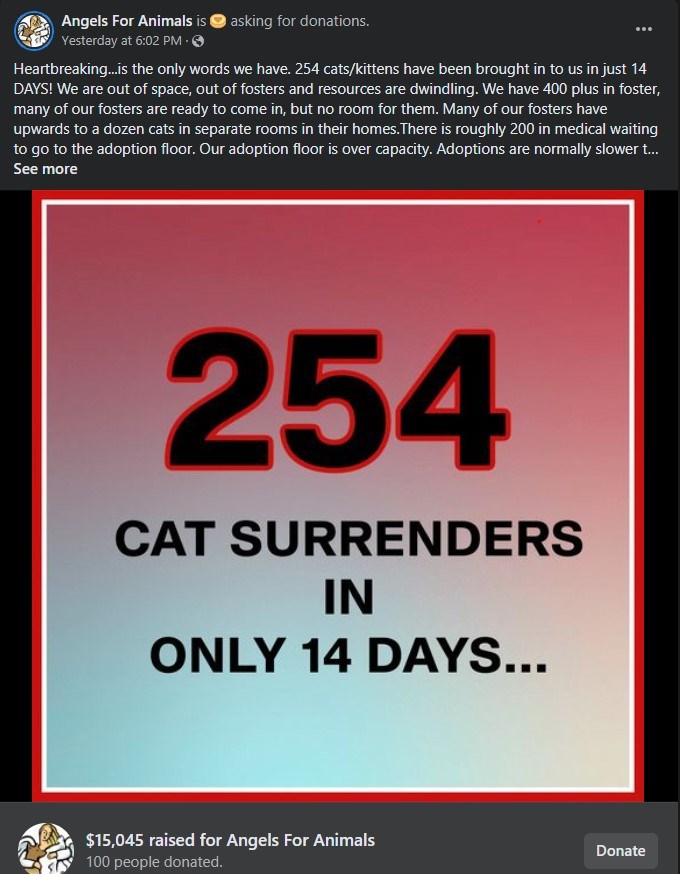 "We need everyone of those people that can help us more than ever," Less explained.
Diane says if you're looking to add a feline to family, or happen to stumble upon a stray get it spayed or neutered, attributing growing litters as a big part of the issue.
"One cat in the beginning of the season is going to be 30 cats by the time the snow flies," she said, adding that a litter of babies in March can reproduce before the end of the year.
"If everyone would bring the cat in before it multiplied, we could handle it easily," Diane says.
 While the shelter navigates this tough stretch, Diane says monetary donations are the biggest need. Cat food and litter are also welcome.
If you'd like to help you can reach out to Angel for Animals for more information or click here.