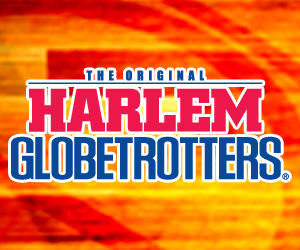 ** CONGRATULATIONS TO JAN ZORMAN FROM ROBINWOOD LANE ELEMENTARY IN BOARDMAN! JAN'S 4TH GRADE CLASS IS THE WINNER OUR PIZZA PARTY WITH A HARLEM GLOBETROTTER! **
Teachers! The Harlem Globetrotters are coming to the Valley! And you can win a pizza party with a Globetrotter at your school on January 28th!
The world famous Harlem Globetrotters are coming to the Covelli Centre on January 30th. But before they do, a Globetrotter ambassador will be visiting the Valley to have a pizza party with you and your class!
To enter, fill out the form at the bottom of this page. We will draw one entry at random. The winner will receive a pizza party for their classroom, a visit from a Harlem Globetrotter and will take part in a live broadcast of 21 News Midday.
The contest is open to elementary and middle school teachers only. Parents and students cannot enter a classroom. The pizza party will be for a maximum of 30 students. 21 WFMJ will provide pizza, drinks and a snack. The live broadcast of 21 News Midday will take place from 12:00-12:30 p.m. on Monday, January 28, 2013. A representative from the Harlem Globetrotters will visit your class between 12:00-12:30 p.m.
One entry per teacher. Elementary and middle school teachers in Mahoning, Trumbull, Columbiana, Mercer and Lawrence counties are eligible to enter. For a complete set of rules, send a self addressed stamped envelope to: 21 WFMJ Harlem Globetrotters Contest, 101 W. Boardman Street, Youngstown, OH, 44503. Deadline to enter is Sunday, January 20, 2013.