News
Gov. DeWine stops by Austintown Lemonade stand, donates to Animal Welfare League
Ohio Gov. Mike DeWine and First Lady Fran made a stop in Austintown Monday before heading to the Canfield Fair.
Monday, September 5th 2022, 4:32 PM EDT
Ohio Gov. Mike DeWine and First Lady Fran made a stop Monday before visiting the Canfield Fair, a quick stop by an Austintown lemonade stand run by two children.
Annalise Kenyon, 8, and her brother Jordan, 5, are raising funds for the Animal Welfare League of Trumbull County. The children raised funds from an idea to honor their Aunt Mimi, the father's sister, who passed away unexpectedly in July at 47.
Gov. DeWine stooped by their Austintown home around 3 p.m. Monday, Sept. 5, and donated to the cause. According to the Kenyon family, at first, the governor gave Annalise a $10 donation - took a closer look - and exchanged the bill with a $100 bill. First Lady gave the Kenyon children each a copy of her cookbook.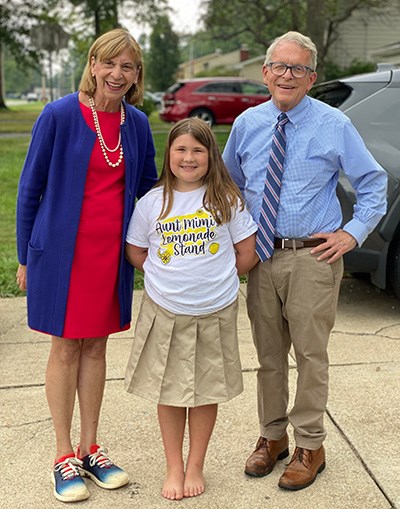 The Kenyon family gave the governor and first lady T-shirts, cookies, and printed towels from the Saturday event.
The children's mother, Melissa Kenyon, told 21 News that at last count, the children had raised more than $1,200, but donations are still coming in.