News
Feds: Mercer County Capitol riot suspect violated release rules, now seeking GPS monitor
A third alleged violation involved Powell leaving home early before her work window began. Powell claimed that she was gardening and described it as a job duty.
Thursday, September 15th 2022, 7:08 AM EDT
A Mercer County woman accused of taking part in the January 6 incursion into the U.S. Capitol is accused of repeatedly violating the conditions set by a judge allowing her freedom from jail while she awaits trial.
Rachel Powell, the so-called "pink hat lady" and "bullhorn lady" was charged after being seen on video footage of people storming the Capitol based supporting Donald Trump's repeated false claims of election fraud.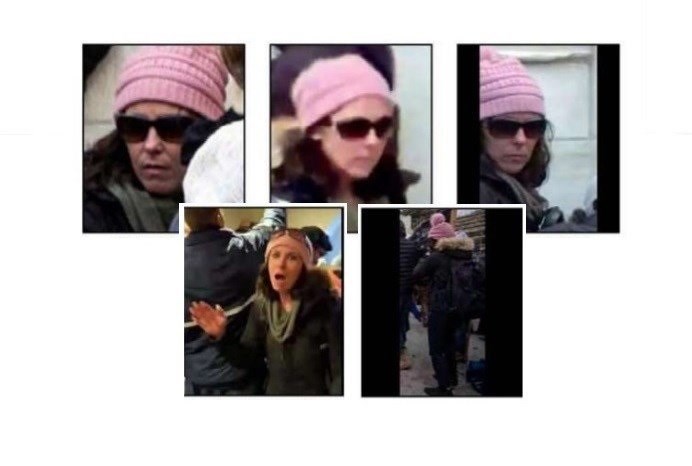 An affidavit says Powell was seen using the bullhorn to give instructions about the layout of the Capitol building and instructing others on how to "take this building."
Powell faces trial on charges including obstruction, destruction of US property over $1,000, entering a restricted building or property with a dangerous weapon, entering a restricted building/property, and disorderly conduct.
The Sandy Lake mother of eight children has been free from jail since February with certain court-imposed restrictions.
A motion filed Wednesday by federal prosecutors in U.S. District Court in Washington D.C. notes that the Court's Pretrial Services Agency is recommending that a judge remove Powell from supervision, claiming Powell should not benefit from "her repeated violations" of pretrial release.
Powell is currently confined to home. However, she is permitted to go to work at a consulting business operated by her boyfriend Joseph Jenkins.
The government's late motion says Powell has violated the terms of her release three times, the first of which was Powell live streaming a video of herself wearing a mesh face mask "in mockery of her condition of release requiring her to wear a mask for community safety."
In the second alleged violation, Powell went banking with Jenkins and then to a brewery during her work hours. Powell told authorities she was there for lunch.
The third alleged violation involved Powell leaving home early before her work window began.
Powell claimed that she was gardening and described it as a job duty.
When the pretrial services officer noted that gardening is not related to the construction job she was approved to do, Powell told the Officer that she does "whatever [Mr. Jenkins] tells her to do, and she gets paid for it."
Powell says additional job duties include accompanying Jenkins on banking errands and hosting evening events with him.
Pretrial Services received an unsolicited letter from Jenkins describing a broader array of job duties, which range from direct customer contact to weeding/mulching/maintaining flower beds to hosting events to assisting with banking.
The letter from Jenkins also commented on Powell's character and the charges against her:
"Accusations that she may be a threat to the community are laughable and false. Anyone can see from the information in this letter that she has her hands full with her job. Add to these responsibilities the homeschooling of four of her eight children.

Consider the weight of the politically motivated criminal charges that she has been burdened with due to her participation in the January 6th election fraud protests. It should be obvious that any harassment of Ms. Powell for conducting her daily business responsibilities would be cruel and uncalled for."

Sincerely, Joseph C. Jenkins, President, Joseph Jenkins Inc
United States Attorney Matthew Graves responded by asserting that further easing Powell's restrictions would be imprudent and counterproductive.
Graves wants the court to order Powell to list all locations she must travel to for her employment and to amend her pretrial release conditions to include GPS monitoring that Powell would have to pay for.
More than 800 people have been charged in connection with the effort to stop congress from certifying Joseph Biden as the winner in the race for US President in 2020. Seven of those people are from the Valley.
Philip Vogel, II, and Debra Maimone of New Castle were said to be working toward a plea deal on charges of theft of property, knowingly entering or remaining in any restricted building or grounds without lawful authority as well as violent entry and disorderly conduct on Capitol grounds.
Julia Jeanette Sizer of Ellwood City, Pennsylvania was sentenced to one year of probation and fined $2,000 after pleading guilty in November to one count of parading, demonstrating, and picketing in the Capitol Building.
Kenneth Joseph Owen Thomas, 38, of East Liverpool, Ohio is charged with assaulting, resisting, or impeding certain officers; obstruction of law enforcement during civil disorder; and engaging in physical violence on Capitol grounds.
Stephen Ayers of Champion, who testified before the January 6 Committee, has pleaded guilty to charges and awaits sentencing.
Ayers, along with Mathew Perna of Sharon, Pennsylvania, were indicted by a federal grand jury on charges of witness tampering for obstructing an official proceeding, entering a restricted building, disorderly and disruptive conduct in a restricted building or grounds, and disorderly conduct in the capitol building.
Perna committed suicide in February, one year after he and Ayers were indicted.