DA: 5 Memphis cops 'all responsible' for Tyre Nichols' death
The Memphis police chief has called the actions of five officers involved in the violent arrest of Tyre Nichols "heinous, reckless and inhumane" and made a plea to residents of the city to protest peacefully when video of the arrest is released.
Thursday, January 26th 2023, 1:11 PM EST
Cops hunt Oregon torture suspect jailed in Vegas kidnap case
Police in southern Oregon are searching for a man accused of torturing a woman he held captive, less than two years after he was convicted in Nevada of critically injuring another woman he held captive for two weeks.
Thursday, January 26th 2023, 11:03 PM EST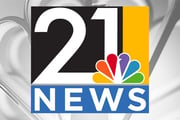 1 year, 1 day in prison for lawyer in police car firebombing
A lawyer who purchased gasoline that another lawyer used in firebombing an unoccupied New York City police car during protests over George Floyd's death in 2020 has been sentenced to a year and a day in prison.
Thursday, January 26th 2023, 9:27 PM EST
Town where child cancer rose blasts deal over polluted site
A proposed settlement between New Jersey and the current owner of a notoriously polluted industrial site is drawing fire from residents of Toms River, where memories of children getting cancer at elevated rates are still a fresh source of pain.
Thursday, January 26th 2023, 7:43 PM EST
Farm where 4 were killed had separate shooting last summer
A farmworker charged in the killings of seven current and former co-workers at two Northern California mushroom farms has admitted during a jailhouse interview Thursday that he committed the fatal shootings.
Thursday, January 26th 2023, 3:59 PM EST
Trump adviser Eastman faces California disciplinary charges
Conservative attorney John Eastman — a lead architect of some of former President Donald Trump's efforts to remain in power after the 2020 election — is facing disciplinary charges in California that could lead to his disbarment.
Thursday, January 26th 2023, 7:11 PM EST