News
Salem Super Cruise gets underway Thursday
One of the biggest car shows across the Valley is coming back to Salem this year.
One of the biggest car shows across the Valley is coming back to Salem this year.
The Salem Super Cruise will take place in Downtown Salem Thursday, June 10 through Sunday, June 13. 
"Starting in January, when we first started planning, a lot of people thought we were crazy because they didn't think COVID-19 was ever going to end," said Gene Johnson, Salem Super Cruise Event Coordinator. "But now, they're very happy that we went ahead and did what we've done."
Johnson said the entire event is free of charge. 
Those who are bringing their classic and vintage vehicles can park in designated areas, while those just coming to enjoy the show can find a place to park anywhere else downtown. 
"We have something for everybody. Whether it be a craft show, we have an antique tractor show and we have a special Corvette show," Johnson explained. 
More than 50 vendors will be available selling all kinds of foods and treats. 
They will open up starting at 12 p.m. Thursday. 
Johnson said over the four-day event, there will be several different bands downtown and DJs playing in every parking lot. 
"Everybody I talked to says they can not wait to get out and go to a car show," Johnson said. "To meet our little old buddies and talk with them- things of that nature."
A full list of events can be found down below.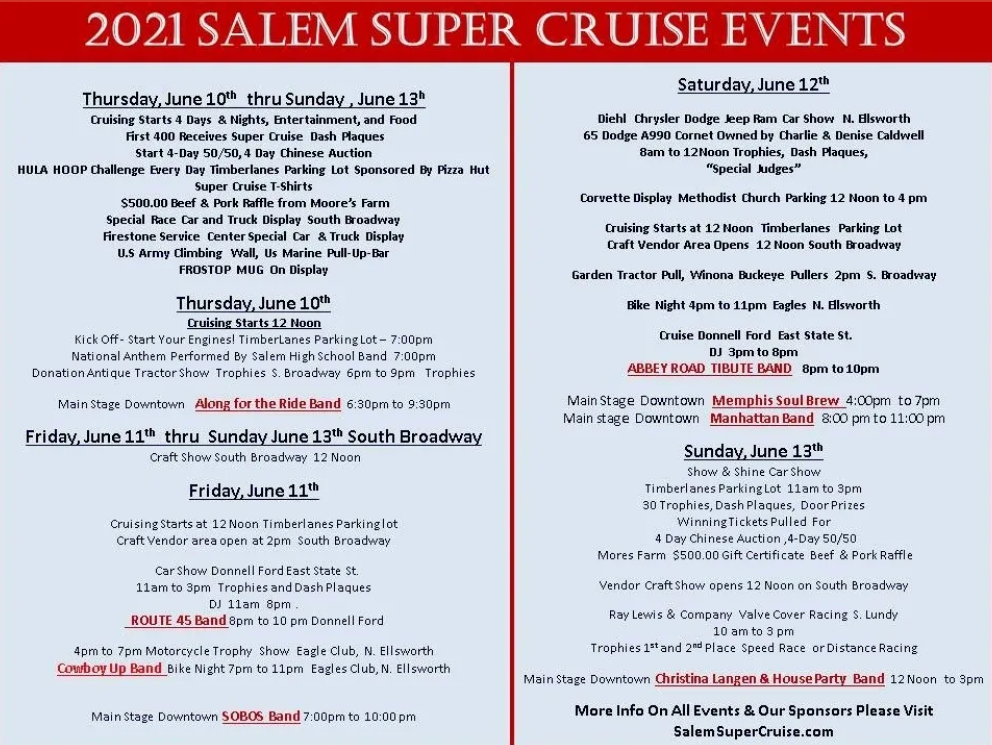 Restaurants and bars will also be open around downtown.
Here is a full map if you want to get in on all the cruisin' action. 
There will also be a 50/50 raffle and auction. 
All the proceeds from the event will go to participating Columbiana County food pantries and the Salem Marching Band.