News
Walmart, Sam's Club pass along recalled Jif contamination alert
FDA: Do not eat, serve, or sell recalled Jif peanut butter
Monday, May 23rd 2022, 10:50 AM EDT
Walmart and Sam's Club have announced that Jif peanut butter recalled by the J.M. Smucker company was sold at all of their stores.
The alert was posted on Walmart and Sam's Club recall website after the FDA, along with the CDC is warning people not to eat certain Jif peanut butter products linked to an outbreak of Salmonella infections in Ohio and 11 other states.
The recalled product was sold by other retailers as well.
Fourteen illnesses and two people have been hospitalized in a dozen states including one case reported in Ohio likely linked to some recalled Jif peanut butter produced at the J.M. Smucker facility in Lexington, Kentucky.
The latest illness was reported on May 1, 2022. No deaths have been associated with the outbreak.
J.M. Smucker Company has voluntarily recalled certain Jif brand peanut butter products that have the lot code numbers between 1274425 – 2140425 manufactured in Lexington, KY.
A photo and a list of UPC codes are included below.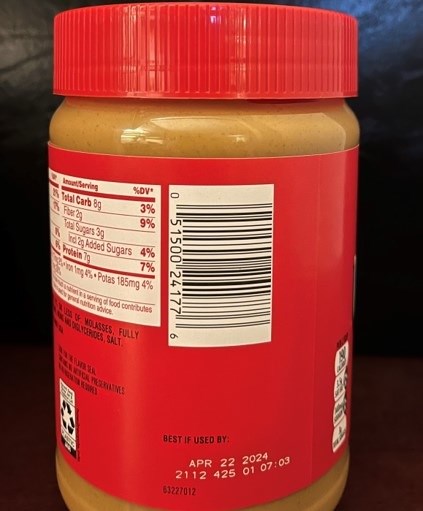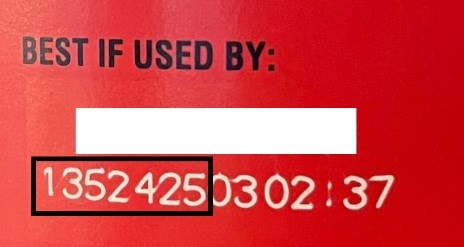 Consumers, restaurants, and retailers should not eat, sell, or serve any recalled Jif brand peanut butter that has lot code numbers 1274425 through 2140425.
The product has a two-year shelf life so consumers should check any Jif peanut butter in their home.
FDA recommends that if you have used the recalled Jif brand peanut butter that has lot code numbers 1274425 through 2140425, you should wash and sanitize surfaces and utensils that could have touched the peanut butter.
Last Illness Onset: May 1, 2022
States with Cases: AR (1), GA (2), IL (1),  MA (1), MO (1), OH (1), NC (1), NY (1), SC (1), TX (2), VA (1), WA (1)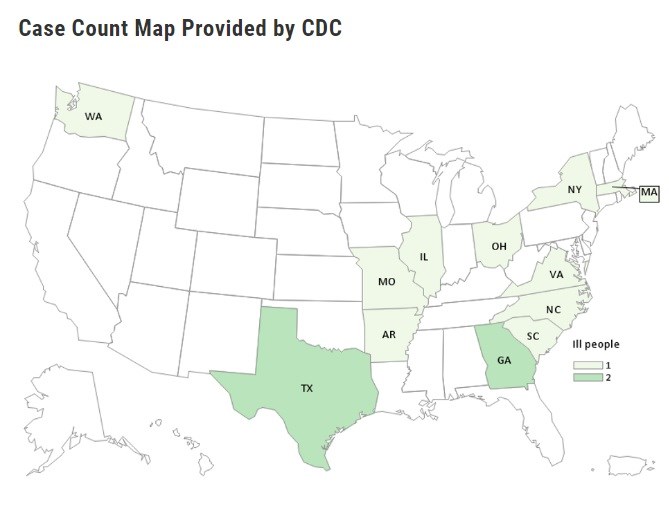 Consumers who have symptoms should contact their health care provider to report their symptoms and receive care.
Most people infected with Salmonella will begin to develop symptoms 12 to 72 hours after infection. The illness, salmonellosis, usually lasts four to seven days and most people recover without treatment.
Most people with salmonellosis develop diarrhea, fever, and abdominal cramps. More severe cases of salmonellosis may include a high fever, aches, headaches, lethargy, a rash, blood in the urine or stool, and in some cases may become fatal.
The U.S. Centers for Disease Control and Prevention estimated that approximately 450 persons in the United States die each year from acute salmonellosis.