News
East Liverpool man denied permission to attend event with others charged with Jan. 6 Capitol riot
Government attorneys claim that Thomas wanted to attend this weekend's event to "speak publicly and fundraise".
Thursday, July 6th 2023, 5:53 AM EDT
A federal judge has denied an East Liverpool man permission to attend an event this weekend sponsored by supporters of those charged in connection with the January 6, 2021, riot at the U.S. Capitol.
At the request of federal prosecutors, U.S. District Judge Dabney Friedrich issued an order rejecting a request by Kenneth Thomas to travel to Rogersville, Missouri to attend the "Truth and Light Freedom Festival", scheduled from Friday, July 7 through Sunday, July 8.
According to the judge's order, Thomas' motion to modify his conditions of release by traveling out of the state was denied because Thomas failed to comply with those conditions in March when he attended the Conservative Political Action Conference in Washington.
In opposing the request, the U.S. Attorney's office provided the court with images from Thomas's social media posts showing pictures of him with another man arrested on January 6th at the CPAC event.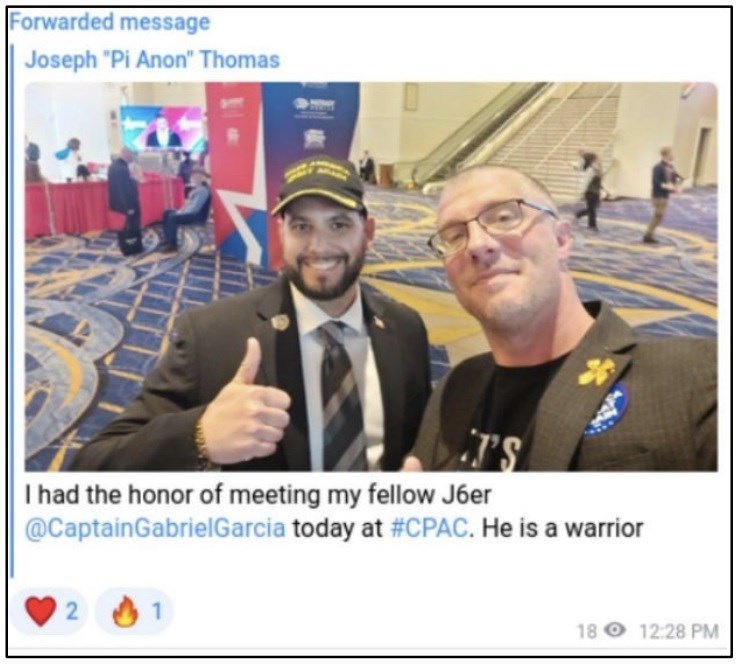 According to prosecutors, while at the CPSC, Thomas "mingled" with many of the same people who will be present at this weekend's event in Missouri.
"At least one of these individuals was also actively violating his pre-trial conditions," said the government in its response, noting that defendant Gabriel Garcia has now been placed on home detention. "The Defendant then boasted about those actions on social media," according to the U.S. Attorney.
Government attorneys claim that Thomas wanted to attend this weekend's event to "speak publicly and fundraise".
Following a trial held in May, a jury in Washington convicted Thomas on seven of the dozen charges filed against Thomas, who according to investigators, led assaults on five officers during an incursion at the U.S. Capitol while Congress was certifying Joseph Biden as the winner of the 2020 Presidential Election.
Thomas was found guilty of civil disorder, four counts of assaulting, resisting, or impeding an officer, entering, or remaining in a restricted building and grounds, and disorderly or disruptive conduct in a restricted building or grounds.
Federal authorities say Thomas was on Upper West Terrace of the Capitol on January 6, 2021, where police body camera footage showed him advancing toward a line of law enforcement and pushing against their shields.
Government authorities say footage showed Thomas punching and striking the officers with his fist and forearm at least twice.
When officers started to dispel the crowd of rioters from the steps, Thomas allegedly turned toward rioters and ordered them to "hold the line" against advancing officers, repeating this several times.
Thomas, who argued that he was acting in self-defense, is scheduled to be sentenced on September 6.