News
Residents divided over first Pride Festival in Columbiana County
Pride Month may have been in June but July 15th marked the first Pride Festival in Columbiana County.
Saturday, July 15th 2023, 7:16 PM EDT
Pride Month may have been in June but July 15th marked the first Pride Festival in Columbiana County.
Wellsville, OH--The Wellsville Alumni Center played host to an event that has many folks divided, especially when it comes to one particular event billed as "family-friendly".
On one corner people people turned up throughout the day with rainbow color umbrellas to celebrate the LGBTQIA community in Columbiana County.
"We have never been seen. We have never been heard and it's about time we stand up and create our own safe space here. People won't create it for us. We are here to power through and create a safe space for anybody who faces hate because of who they are," 
the Organizer of the Columbiana Pride Festival Ophelia said.
On the other corner in Wellsville pastors and folks showed up to protest their lifestyle and offer an opportunity to learn about Jesus Christ.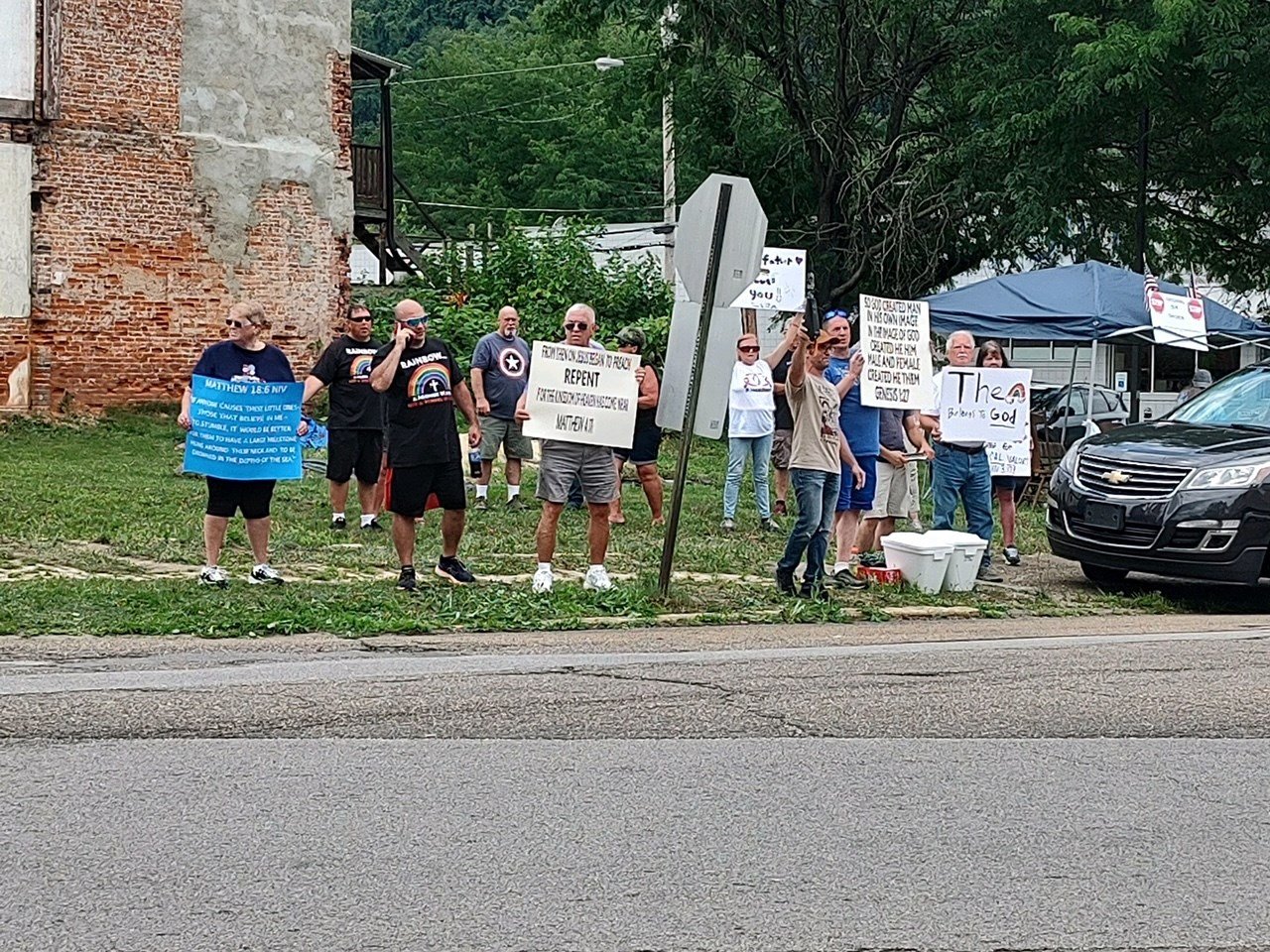 There was a puppet show, guest speakers, and what the event organizer promised to be a family-friendly drag show.
21 News asked if there will truly be no adult content including no lap dances, or half-naked performers in that show. "We do not stand with that. That is something that we don't condone or endorse whatsoever. Drag is a magical art form but we as drag entertainers should be able to know what our audience is and morph ourselves to that so that will absolutely never happen at one of our Columbiana County Pride events, or Drag Meets the Valley events. That is not ok." Ophelia the organizer emphasized.
Later in the evening next there will be programs for adults 18 and older. 
People of faith are on opposite sides of the issue and street some standing with the pride group.
"I think we stand for love. I think we stand for inclusion. I think we stand for the invitation. I think we stand for dialogue and for caring for one another, not berating and judging one another," Reverend Gayle Catinella with Saint John's Episcopal Church in Youngstown said.
Pastors John Paul Robles at Sacred Commons in Youngstown, and Joseph Boyd with Unitarian Universalist Church of Youngstown stood with her and the folks celebrating the Pride event.
The pride organizer says there will be another event next year.
And next year you can expect pastors and folks who believe the LBGTQIA community is being led astray will be here too.
"This gross expression of immorality has crept into our towns and it needs to be confronted," Pastor Mick Naples of Christ Our Life Church in Canfield said.
WFMJ News asked about the other pastors supporting the Pride event who say Jesus has an infinite capacity for love we can't understand.
"Jesus Christ is Lord and he offers mercy to all of us. It's not up to us to decide right and wrong. He has already decided right and wrong and all of these people expressing opinions have no right. Jesus said I am the way, the truth, and life, no one comes to the Father except through me," Pastor Naples emphasized.
"We're here sharing the truth and love. If we see our loved ones walking towards a cliff and we don't warn them that's not loving. These people are heading for destruction outside of faith and repentance in the Lord Jesus Christ," Pastor Naples said.
"There is a stricter condemnation for those claiming to be teachers, claiming to lead people and they're leading people to hell. Paul said in First Corinthians Chapter that no practicing homosexual will inherit the Kingdom of God, but he ended the passage saying such were some of you. God is in the business of saving people even out of the worst of sins. He offers mercy if they will only go to him," Naples added.
About 100 people attended the pride events throughout the day. 
"We don't care if just one person shows up today as long as they found out their community is here and we are here to fight for them," Ophelia added.