News
'Victim-Officer' from Capitol riot planning to speak at sentencing of East Liverpool man
On Thursday, Judge Dabney Friedrich ordered that the sentencing be reset to November 15.
Thursday, October 5th 2023, 6:44 AM EDT
A federal judge has granted the prosecution's request to push back the sentencing date of an East Liverpool man convicted for his role in the January 6, 2021, incursion at the U.S. Capitol so one of the police officers involved can deliver a victim impact statement in person.
In a motion filed in U.S. District Court in Washington D.C., prosecutors said that the person described as a "victim-officer" would not be available to attend the sentencing hearing for Kenneth Thomas that is currently scheduled on October 11 due to an emergency. 
Noting that federal rules give a crime victim the right to be treated with fairness and with respect, the motion does not name the officer but is asking that the sentencing hearing be rescheduled.  Government attorneys note that Thomas's defense counsel does not oppose the delay.
On Thursday, Judge Dabney Friedrich ordered that the sentencing be reset to November 15.
The U.S. attorney is seeking a prison sentence of 9 years or more for Thomas.  Defense attorneys suggest house arrest for one year or less.
A jury returned a verdict in June finding Thomas guilty of civil disorder, four counts of assaulting, resisting, or impeding an officer, entering, or remaining in a restricted building and grounds, and disorderly or disruptive conduct in a restricted building or grounds.
Investigators say Thomas led assaults on five officers during an incursion at the Capitol, while Congress was certifying Joseph Biden as the winner of the 2020 Presidential Election.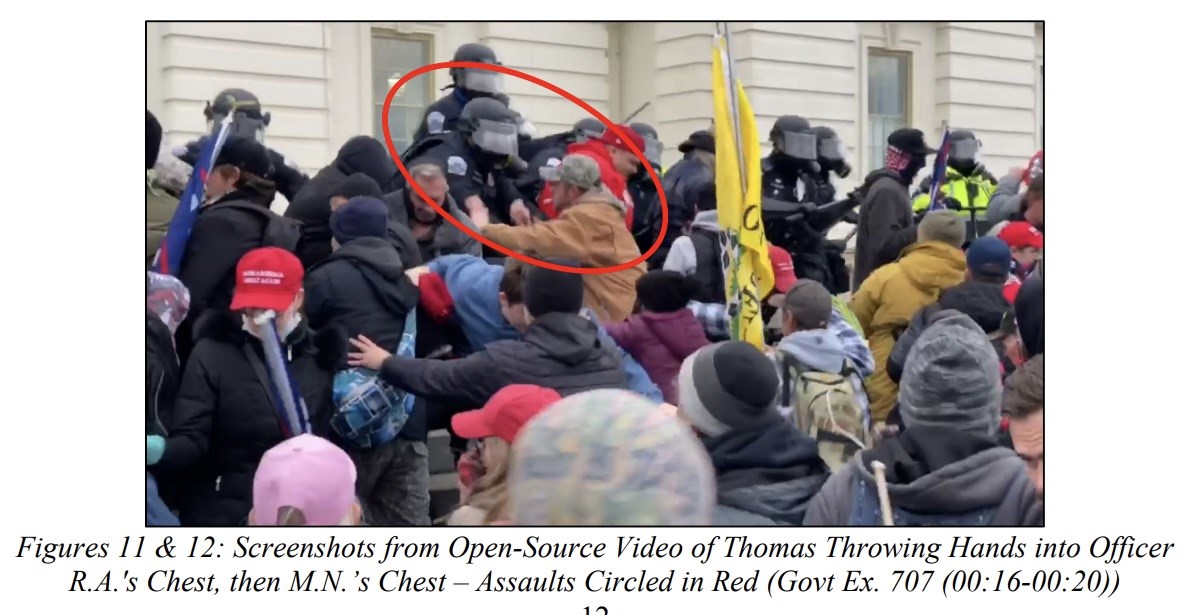 Saying he played a "critical role" in the attack on the Capitol, government lawyers say Thomas consistently appeared at the front of the mob on the Upper West Terrace," where he attacked lines of officers, both physically and verbally, attempted to get inside the Capitol building and encouraged others to stand with him and hold the line."
Representing Thomas, California defense attorney Roger Roots has characterized the government's sentencing recommendation as "preposterous" saying it is "at or above the statutory maximum allowed by Congress.