News
Prosecutors ask judge to reject motions from East Liverpool January 6th suspect
Federal prosecutors are asking a judge to deny several motions from an East Liverpool man who awaits trial for allegedly leading assaults on five officers during the January 6, 2021 incursion at the U.S. Capitol.
Friday, March 10th 2023, 6:03 AM EST
Federal prosecutors are asking a judge to deny several motions from an East Liverpool man who awaits trial for allegedly leading assaults on five officers during the January 6, 2021 incursion at the U.S. Capitol while congress was certifying Joseph Biden as the winner of the 2020 Presidential Election.
In seven documents filed on Thursday, government attorneys responded to several motions filed by an attorney representing Kenneth Thomas, who is charged with obstruction of Law Enforcement during a civil disorder, obstruction of an official proceeding and aiding and abetting, five felony counts related to assaulting, resisting, or impeding certain officers, three counts relating to disorderly conduct and violence in a restricted building or ground, and two misdemeanor counts relating to disorderly conduct and violence in a Capitol building or grounds.
Answering Thomas's questioned about the methods the FBI used to single him out of a crowd on thousands, prosecutors say they a neighbor identified Thomas and his Facebook page where investigators say he had posted photos of him self in Washington on January 6, wearing identical clothing and glasses as the suspect.
In addition, the government says Thomas identified himself as the suspect being sought by the FBI in another social media post.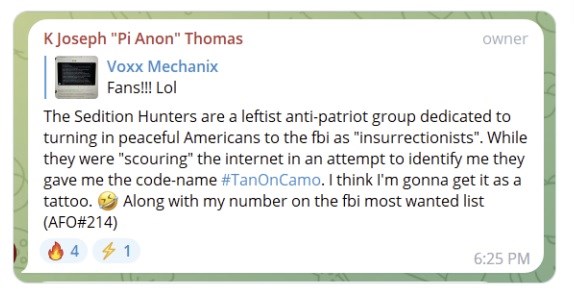 As for allegations by Thomas that the government filed more charges against him in retaliation for rejecting a plea agreement, prosecutors say the new charges came as the FBI continued to review newly uncovered  body camera evidence of Thomas allegedly assaulting additional police officers as the investigation continued.
The government's response also states that the Supreme Court has explained that a prosecutor's decision to add charges after a defendant rejects a plea agreement does not violate the Due Process Clause.
Prosecutors also refute Thomas' motion to dismiss multiple charges against him claiming they place him in double jeopardy. Government attorneys say the five alleged assaults were in separate locations, times, with different victims.
Thomas's motion to prohibit prosecutors from mentioning during trial the names of any officers who died as a result of the January 6 incursion may backfire.
The defense lawyer not only wanted the judge to prohibit the prosecution from referencing the five officers whose deaths have been linked by some to the January 6th riot, but to disallow the description of the days events as deadly.
The government attorneys responded by stating that they have no intention of bringing up those deaths.
Saying in their motion that any reference to "deaths" would be "irrelevant", prosecutors asked the judge to also keep defense attorneys from bringing up the topic of civilian deaths or injuries that day.  One of the protestors, Ashli Babbitt was fatally shot by a police officer as she attempted to climb through an interior window of the Capitol.
"With not a whisper of irony, the defendant seeks to preclude the government from introducing evidence of any of the law enforcement officers who died in the wake of January 6 while in nearly the same breath introducing evidence about civilians who died," prosecutors wrote in their response. "The defendant then goes a step further and seeks to introduce evidence about rioters other than the defendant, who have no connection to the defendant, and who were injured during the riot."
A request by the defense for production of records related to other reasons congressional certification of the ballots, as well as threats and security arrangements is described as "tangential" and "underdeveloped" by prosecutors.
Thomas has asked for records including materials created by the House Select Committee to Investigate January 6, which looked into the causes of the Capital incursion.
Prosecutors say they don't have access to those records produced by another arm of the government, adding that those records are not part of their case against Thomas.
"The Defendant requests a number of materials that are not material to his case," prosecutors stated in their motions. "In what amounts to little more than a fishing expedition for fodder for conspiracy theories.."
Thomas has asked for information related to government "provocateurs" in the crowd that attacked the Capitol, information about the use of chemical crowd control devices by police , and the "failure" until after dark to use an "amplified public address system" to order the crowd dispersed.
"These requests are brimming with insinuation and conjecture that bear no connection to Defendant Thomas' actions on January 6, 2021," say prosecutors.
More than 900 people have been charged in connection with the Capital insurrection. Seven of those are from here in the Valley. One of those seven has since taken his own life.