Health
Youngstown doctors fighting heart failure with tiny implant device
Mercy Health Youngstown is becoming one of the fastest-growing providers of one small solution to the growing problem of heart failure.
Thursday, September 12th 2019, 5:37 PM EDT
Updated:
Thursday, September 12th 2019, 6:08 PM EDT
Mercy Health Youngstown is becoming one of the fastest-growing providers of one small solution to the growing problem of heart failure.
The Advanced Heart Failure Team at Mercy's Heart and Vascular Institute has seen an exponential increase in the number of patients coming to the clinic for an implant of a small technological device to help combat heart failure.
Dr. Hayah Kassis-George, a specialist in advanced heart failure, says the device is becoming more and more critical.
"Heart failure is a disease state that afflicts about six million American adults. And by the year 2030, we expect that with an aging population, more Americans will have this disease," Dr. Kassis-George explained.
"Basically what heart failure is is the inability of the heart to pump blood to the rest of the body," the doctor said. "It happens in patients who have either weak hearts or stiff hearts or a combination of the two."
"So when the heart is either stiff or weak, and it's unable to pump enough blood forward, to you know profuse blood through the rest of the body. What happens is it backs up into the lungs, the belly, the legs. There can even be kidney failure if they get too congested," she said.
So doctors work hard to keep fluid from collecting in and around a patient's heart.
"So it's important that we give the patients water pills, we keep the water off of them, so they're walking around in a perfect state, so their heart is able to do the work that it needs to do to stay alive," Dr. Kassis-George said.
But when that fluid fluctuates too drastically, symptoms can leave patients hospitalized.
"Heart failure is the number one medicare diagnosis for admissions in the United States, so it's very costly, and again by the year 2030 we expect it to be very expensive, even more expensive," Dr. Kassis -George said.
Those hospital visits can add up, said Dr. Kassis-George: "Every time a patient with heart failure is hospitalized, it increases their risk of death fifty percent in the next year."
Which is why specialists in Youngstown turned to the CardioMEMS device. The tiny device is implanted in a quick procedure, much like a cardiac catheter.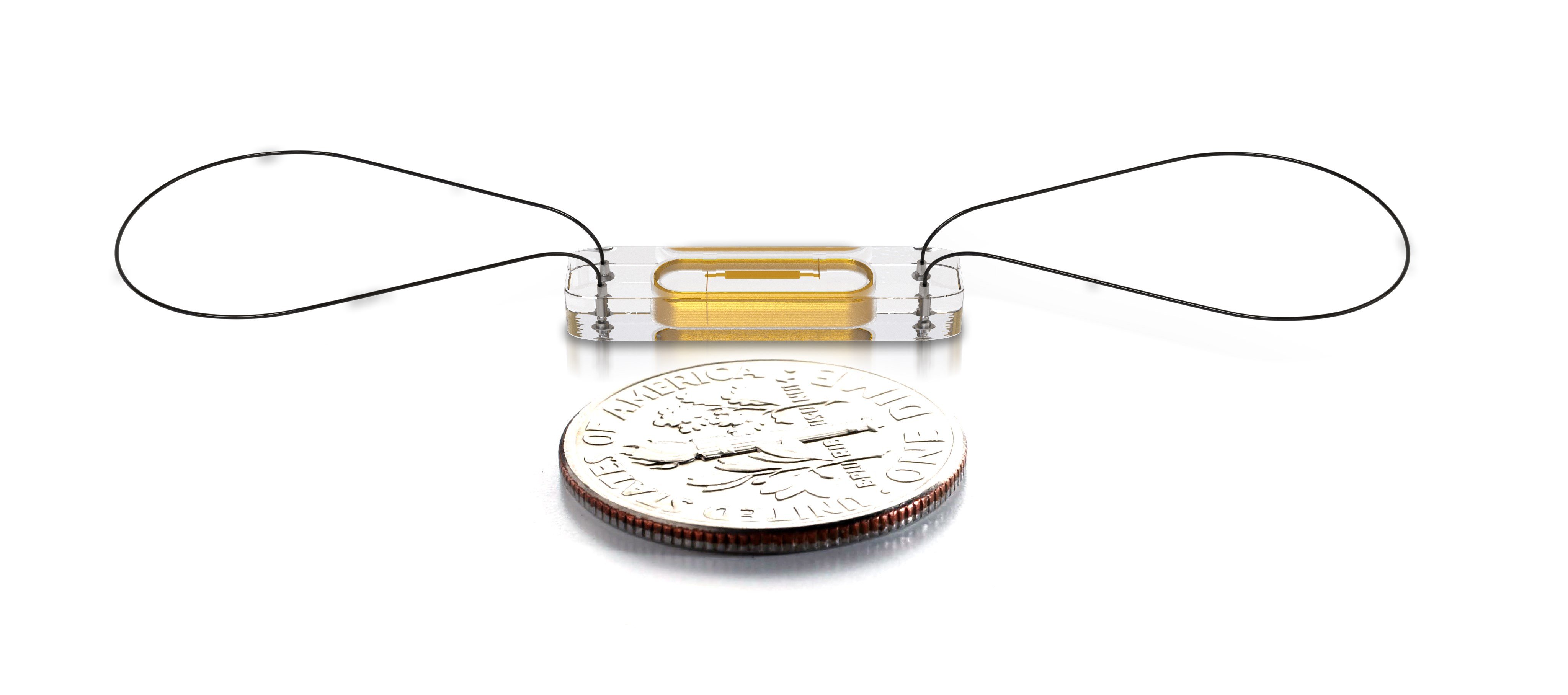 "Bring the patient in; it's an outpatient procedure. They're consciously sedated. The approach is through the right femoral vein," Dr. Kassis-George explained. "We implant in the pulmonary artery, we got into a vein, and then we go beyond the heart and implant it. It's very small; it's permanent, it stays in you for the rest of your life."
The surgery takes about 15 minutes once the patient is sedated and from there, they'll spend about 4-6 hours in recovery before they're sent home.
From there, the patient is required to lie on a special pillow every morning for about 20 seconds.
The pillow and the CardioMEMS device communicate data, which is then transmitted via radio waves directly to the doctor's office, giving them an instantaneous look at the pressure in the heart.
"The fluid levels rise in patients several days before they become symptomatic. So we can tell that a patient's fluid levels are rising. We can call them and tell them, 'Hey, take an extra water pill, take an extra diuretic.' Often they'll say, 'But doc, I'm feeling well. Why should I take an extra water pill? I'm doing great. I want to go to the Canfield Fair today. I don't want to urinate all day.' And so they resist it. We have to explain to them, 'Oh no, no we're catching you several days before you even feel symptoms," Dr. Kassisi-George said.
"As long as the patient's chest wall isn't larger than 165 centimeters then the pillow can pick up the radio frequency of the device," she explained.
By monitoring the pressure in near real-time capabilities, doctors can intervene before fluid backs up to a dangerous point.
"Every time a patient fills up with fluid, it sounds very dramatic, but the likelihood that they live longer is less. And every time they're in the hospital, what that implies is that they've filled up with so much fluid that they've developed symptoms to the point that now they're in the hospital," Dr. Kassis-George said. "So, if we're catching all these patients with this device, the hope is that people, who in any other world would have become advanced and needed all that, we've prevented them from doing that."
And while heart failure is a progressive disease that many times will require further assistance such as a left-ventricular assist device or a transplant, Dr. Kassis-George said the goal of the CardioMEMS is to keep patients as healthy as possible before that happens.
"The goal is to keep them healthy, keep them at a spot where they never need that, but if they do need that we catch them very soon and then they have a healthy sort of process," she said.
And according to Dr. Kassis-George, CardioMEMS has proven itself successful.
"Patients who undergo the implant feel great all the time because we're always catching their fluid levels before they rise to that point," she said. "We have a three percent readmission rate for heart failure as opposed to about 25 percent in the average population with regards to heart failure. The big study that was done in 2011 showed a reduction in heart failure hospitalizations between 39 and 47 percent depending on what patient population you look at."
"Fifty percent of these patients that had the CardioMEMS didn't have a hospitalization for however long they looked at them, and so you're reducing their risk of death by 50 percent," she said.
The doctor explained that since they began doing the procedure here in Youngstown, they've seen exponential growth in those coming to the area for help.
"The first implant was about three years ago, and there were a handful of patients. And then we started this program about 18 months ago. We have had about 60 implants. It's one of the fastest-growing programs in northeast Ohio and western Pennsylvania, and West Virginia," Dr. Kassis-George said.
To qualify for the CardioMEMS procedure, patients have to have been diagnosed with heart failure and been hospitalized from heart failure symptoms within the last twelve months.