News
Feds: Youngstown prisoner ran Mexico to Ohio drug pipeline from cell
Federal investigators say nine people worked at the direction of an inmate of Youngstown's private prison to bring shipments of fentanyl stamped into pills, heroin, cocaine and other drugs from Mexico to Cleveland. According to a federal indictment, 41-ye
Friday, September 13th 2019, 6:04 AM EDT
by
Updated:
Friday, September 13th 2019, 10:19 AM EDT
Federal investigators say nine people worked at the direction of an inmate of Youngstown's private prison to bring shipments of fentanyl stamped into pills, heroin, cocaine, and other drugs from Mexico to Cleveland.
According to a federal indictment, 41-year-old Mexican citizen, Jose Lozano-Leon used a smuggled cellular telephone to communicate with nine other suspects to manage a drug trafficking organization from his prison cell at the Northeast Ohio Correction Center on Hubbard Road in Youngstown.
At the time of the alleged crimes, Lozano was serving an 18-month sentence in the privately-operated prison after pleading guilty to illegally reentering the United States after being deported in 2017.
In addition to Lozano, the 17-count indictment filed in U.S. District Court names Mario Hernandez-Leon, 31, of Mexico; Clemente Gutierrez-Meraz, 27, of Mexico; Lorne Franklin, 45, of Cleveland; Leevern Coleman, 49, of Bedford; Belen Orozco-Sigala, 36, of Painesville; Najee Amir Evans, 28, of Cleveland; Troy Pinnock, 47, of Cleveland; Damon Bybee, 60, of Garfield Heights, and Montez Vanburen, 38, of Cleveland.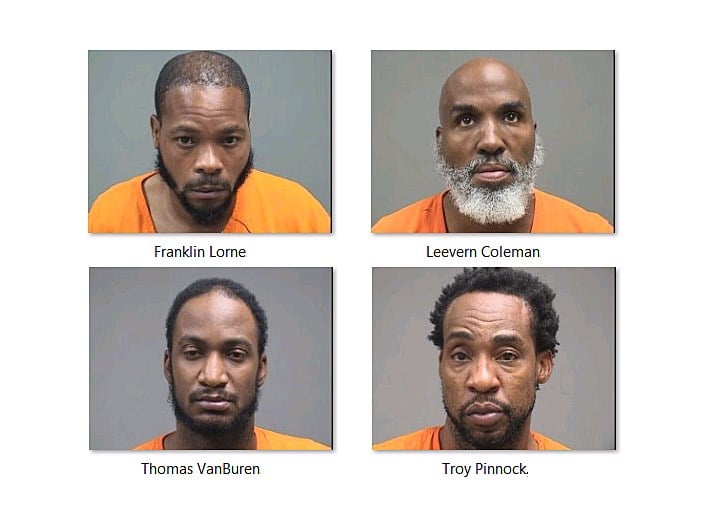 All ten are charged with conspiracy to distribute controlled substances.
Investigators say Lozano frequently spoke with the co-defendants and others to arrange shipments of drugs from Mexico and other locations to Cleveland, for distribution in Northeast Ohio.
The group specialized in pills containing fentanyl and/or fentanyl analogs but which appeared to be prescription oxycodone, according to the indictment.
The group also allegedly trafficked heroin, methamphetamine, cocaine, and marijuana.
Prosecutors say Hernandez-Leon obtained drugs for the organization in Mexico and arranged for them to be smuggled into the United States and sent to co-conspirators in Northeast Ohio. He often traveled between Tijuana and San Diego to receive drug proceeds and deliver payments to suppliers in Mexico, according to the indictment.
The indictment says Gutierrez-Meran operated from Mexico and arranged for shipments of drugs and transfers of money.
Franklin received shipments of drugs in Cleveland arranged by Lozano, which he then sold the drugs in the Cleveland area. He also arranged for cash drug proceeds to be sent to Arizona, California, and Mexico, according to the indictment.
Coleman, while in federal prison in Michigan, allegedly helped Lozano communicate with and direct actions of the co-conspirators, including Franklin.
For example, shortly after midnight on April 11, 2019, Lozano and Gutierrez texted about a shipment of pills, Gutierrez sent to a location in Cleveland.
The indictment says minutes later, Lozano texted Franklin:
"TOMORROW DA SKITTLES (fentanyl pills) ARRIVE AT (an address in Cleveland) AROUND NOON. WE GOTTA GET PAPER (money) ASAP SO WE CAN PAY EVERYBODY UP."
Later that day, Lozano and Franklin discussed via text the arrival of 5,000 fentanyl pills and that they needed to pay $27,500 for the drugs, according to the indictment.
On April 29, 2019, Lozano and Hernandez spoke by phone. Federal agents say Lozano explained he had recruited a driver who entered the U.S from Mexico and would drive drugs from San Diego to Cleveland.
Three days before, Lozano had a discussion by phone with another person about how strong Lozano wanted the fentanyl pills to be on a scale of one to ten. Lozano requested the pills by about eight or nine, stating he did not want any "issues" (overdoses), according to the indictment.
"The lead defendant is accused of running an international drug trafficking organization from a jail cell in Ohio," U.S. Attorney Justin Herdman said. "He has come to this country illegally and allegedly made his living selling the same kinds of drugs that are killing our friends and neighbors. He is an importer of pain and will be prosecuted accordingly."
"Carfentanil is 10,000 times more powerful than morphine -- a speck the size of a grain of sand may be fatal," Ohio Attorney General Dave Yost said. "Our communities are exponentially safer thanks to the work of this task force."
NEOCC is a medium-security facility that holds inmates in custody of the U.S. Marshal. It has been operated since 1997 by CoreCivic which owns 45 secure correctional facilities and manages another nine secure facilities around the country.