News
Tuesday trial scheduled for East Liverpool man accused of punching officers during Capitol riot
Thomas is accused of punching and striking the officers with his fist and forearm at least twice.
Tuesday, May 16th 2023, 4:49 AM EDT
A jury trial is scheduled to begin Tuesday morning in a federal courtroom in Washington DC for an East Liverpool man accused of leading assaults on five officers during an incursion at the U.S. Capitol on January 6, 2021, while Congress was certifying Joseph Biden as the winner of the 2020 Presidential Election.
U.S. District Court Judge Dabney L. Friedrich will preside over the case of Kenneth Thomas, who is charged with obstruction of Law Enforcement during a civil disorder, obstruction of an official proceeding, and aiding and abetting, five felony counts related to assaulting, resisting, or impeding certain officers, three counts relating to disorderly conduct and violence in a restricted building or ground, and two misdemeanor counts relating to disorderly conduct and violence in a Capitol building or grounds.
Court documents state Thomas was on the Upper West Terrace on January 6, 2021, where police body camera footage showed him advancing toward a line of law enforcement and pushing against their shields.
Government authorities say footage showed Thomas punching and striking the officers with his fist and forearm at least twice.
When officers started to dispel the crowd of rioters from the steps, Thomas allegedly turned toward rioters and ordered them to "hold the line" against advancing officers, repeating this several times.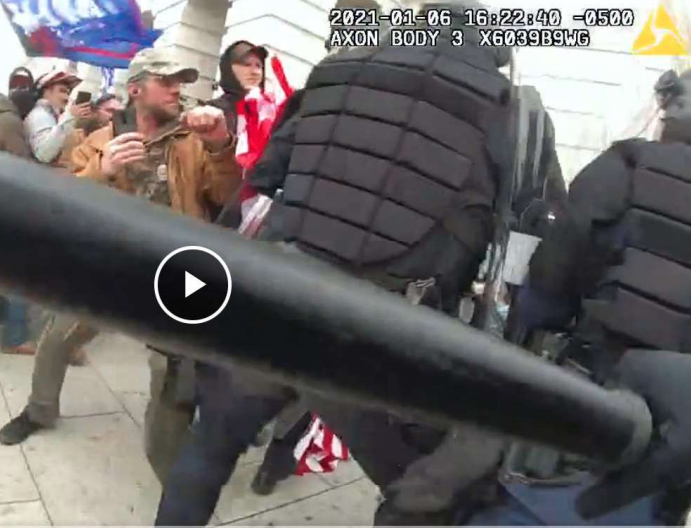 Court documents state that in later interviews, law enforcement officers confirmed the attack and stated the individual "was one of the first to come in and start hitting and pushing officers on the line."
Pretrial motions in the case have been contentious, the latest of which include objections to government exhibits culled from 30,000 pages of evidence gathered from Thomas's Facebook page, as well as podcasts uploaded by Thomas, and that the government says are still available online today.
The defense attorney challenges the evidence as incomplete and hearsay.  Prosecutors characterize the defense objections as "nonsensical".
The trial will not include testimony from two men the defense wanted to call as "experts" on the Capitol Police Department's use of force on January 6.  Judge Friedrich granted government motions to exclude participation by Steven Hill and Dick Heller to support defense arguments that Thomas was acting in self-defense during the January 6th confrontation.
Early Tuesday, the defense submitted a motion to exclude testimony from FBI agents.
"The Government's frequent success in criminal prosecutions is in part due to court rules which allow the Government to frame, stage and rig trials in the government's favor," writes attorney Roger Root. "If the government were confined to the constraints imposed on defendants, the government could not so easily win convictions." The motion has yet to be ruled upon.
More than 900 people have been charged in connection with the Capital insurrection. Seven of those are from here in the Valley. One of those seven has since taken his own life.
Another federal judge is weighing evidence presented earlier this month in the case of Rachel Powell of Mercer County, Pennsylvania.
The 43-year-old Sandy Lake mother of eight faces nine charges that include civil disorder, obstruction, destruction of US property, entering a restricted building or property with a dangerous weapon, and disorderly conduct.