News
Government wants prison; East Liverpool man seeks house arrest for Jan. 6 conviction
An East Liverpool man convicted for his role in the January 6, 2021, incursion at the U.S. Capitol is asking a judge to give him no prison time when he is sentenced in October.
Monday, August 28th 2023, 7:22 AM EDT
An East Liverpool man convicted for his role in the January 6, 2021, incursion at the U.S. Capitol is asking a judge to give him no prison time when he is sentenced in October.
Government prosecutors have a different idea, proposing that Kenneth Thomas be put behind bars for more than 9 years when he appears in a Washington D.C. federal court for sentencing on October 11.
A jury returned a verdict in June finding Thomas guilty of civil disorder, four counts of assaulting, resisting or impeding an officer, entering, or remaining in a restricted building and grounds, and disorderly or disruptive conduct in a restricted building or grounds.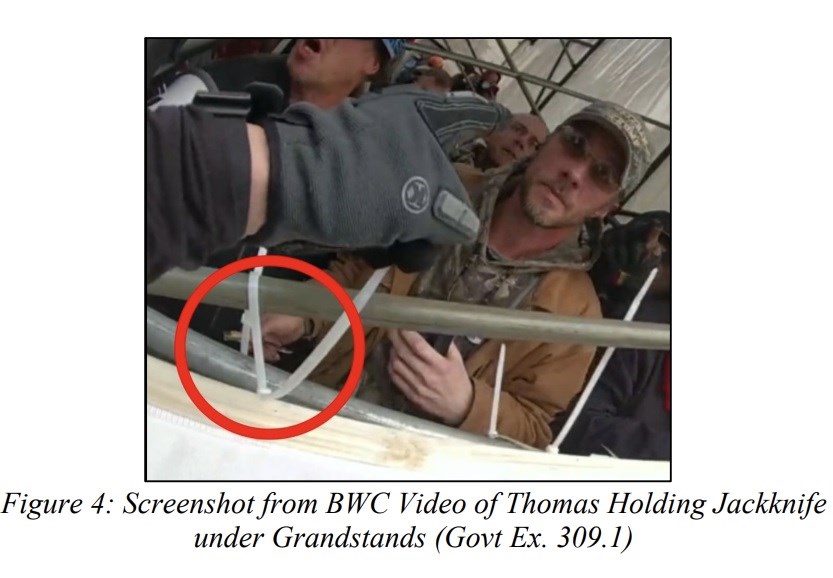 U.S. Attorneys say Thomas led assaults on five officers during an incursion at the Capitol, while Congress was certifying Joseph Biden as the winner of the 2020 Presidential Election.
In addition to recommending a 109-month prison sentence, the U.S. Attorney suggests in a memorandum that Thomas also be placed on 36 months supervised release, pay restitution of $2,000, and a fine of $77,607.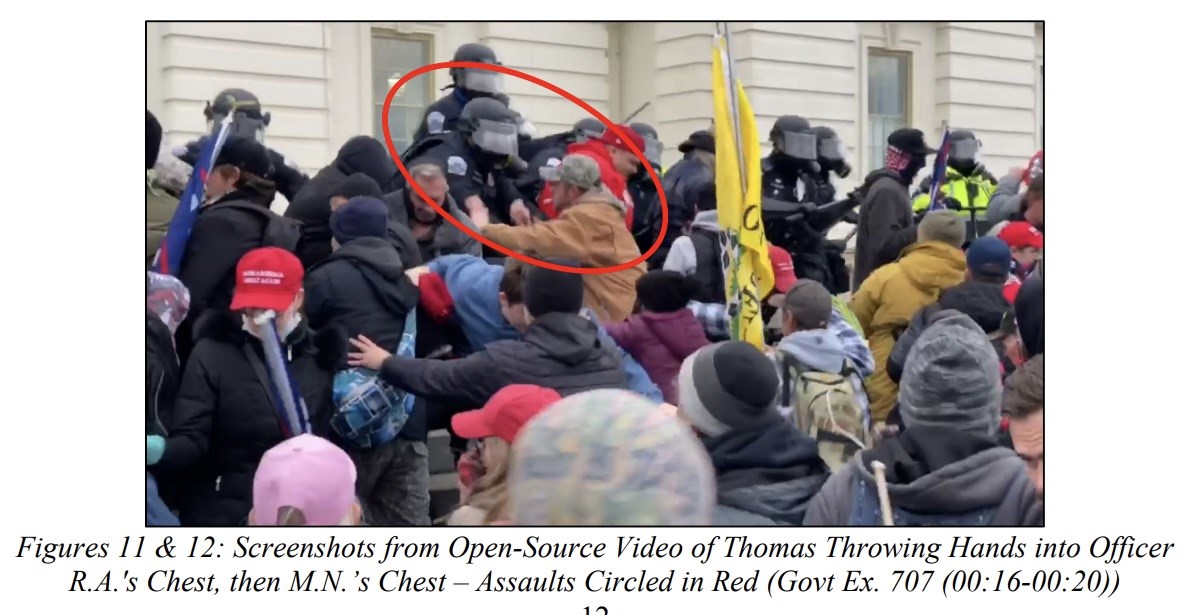 The government's sentencing memorandum says Thomas participated in "a violent assault on the United States Capitol, which forced an interruption of the certification of the 2020 Electoral College vote count, threatened the peaceful transfer of power after the 2020 Presidential election, injured more than one hundred police officers, and resulted in more than 2.9 million dollars in losses."
The memorandum includes images included in the government's case against Thomas.
Alleging that Thomas started planning weeks before January 6, prosecutors say he posted what the government described as "countless social media posts regarding his plans for the 6th, including memes with violent imagery that showed bombs and lighting flying over and striking the United States Capitol Building.
Saying he played a "critical role" in the attack on the Capitol, government lawyers say Thomas consistently appeared at the front of the mob on the Upper West Terrace," where he attacked lines of officers, both physically and verbally, attempted to get inside the Capitol building and encouraged others to stand with him and hold the line."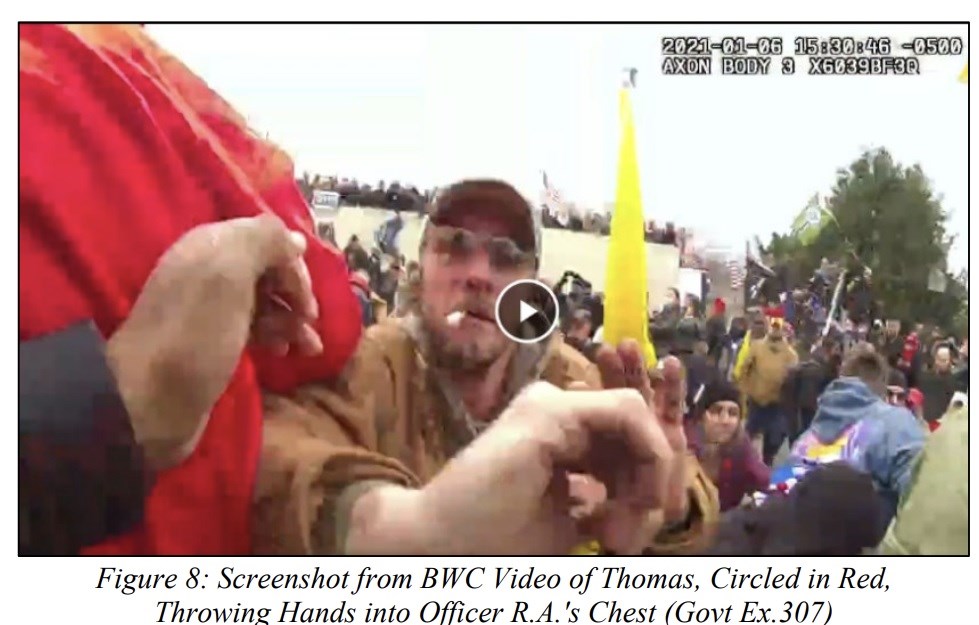 Claiming Thomas has expressed no remorse for his crimes, the prosecution memo says, "he has sought fame and notoriety, and to profit financially from his criminal conduct."
U.S. Attorneys say even after his conviction, Thomas "continues to spread misinformation, claiming that "' January 6 was a setup'" and that he and his fellow rioters "[were] actually peaceful."
Prosecutors are asking for the prison penalty for what they say are Thomas's refusal to accept responsibility, false testimony, and the need to deter him and others from further wrongdoing.
Representing Thomas, California defense attorney Roger Roots has also filed a sentencing memorandum on behalf of his client, calling the government's recommendation "preposterous" saying it is "at or above the statutory maximum allowed by Congress."
The Defense is requesting that Thomas, married and a father of four" be sentenced to home confinement for 12 months, given no fine, with three years of supervised release.
Attorney Roots notes in the memorandum that Thomas was "acquitted by the jury of the most serious charge in the case", obstruction of an official proceeding, as well as found not guilty of any violent crimes.
Thomas's attorney also cites riots that broke out in Downtown Portland Oregon in May and June of 2020 following the death of George Floyd at the hands of Minneapolis Police Officers.
The memo claims that those charged in connection with those disturbances received "extremely light prison sentences, probation, or having charges dropped."
Attorney Roots says in the memorandum that to "avoid severe sentencing disparities, the Court should avoid sentencing Thomas to more than one-year imprisonment."