News
Plea expected from Trumbull County man charged with U.S. Capitol riots
According to an affidavit, Ayres was one of the many people who unlawfully entered the U.S. Capitol building.
A Champion man facing federal charges for allegedly taking part in the U.S. Capitol riots on January 6 is expected to change an earlier not guilty plea he entered earlier in the case.
According to federal court records, a plea agreement hearing has been scheduled on Wednesday for 39-year-old Stephen Ayres, one of more than 700 people charged in connection with the effort to stop congress from certifying Joseph Biden as the victor in the race for President.
Ayers, along with Mathew Perna of Sharon, Pennsylvania, were indicted by a federal grand jury on charges of witness tampering for obstructing an official proceeding, entering a restricted building, disorderly and disruptive conduct in a restricted building or grounds, and disorderly conduct in the capitol building.
The court entries give no indication as to whether Ayers will plead guilty to the indictment or to reduced charges.
Perna committed suicide in February, one year after he and Ayers were indicted.
According to an affidavit, Ayres was one of the many people who unlawfully entered the U.S. Capitol building and had posted a video of himself inside the Capitol building as well as in a hotel room to Facebook later that day.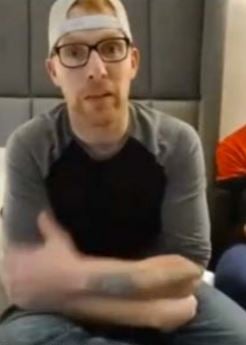 On January 10, the FBI reviewed the video, which had Ayres and two other people describing what they had seen at the Capitol that day. 
The video was also posted to YouTube, titled "It was all ANTIFA breaking into the Capitol 1-6-2021."
The group claimed that ANTIFA was the organization that led the attacks on the Capitol building and that the police let everyone walk in.
Ayres then said that the "fake news" would not accurately report on what happened at the Capitol but that they had "seen it all" and they "got footage all over the place on the Capitol" and that they would "probably share some of it here and there." 
According to the court filing, they also said that the purpose of that day was to "expose Pence as a traitor" and "the American people are not going to let this slide, especially after today."
Once law enforcement reviewed surveillance video in the Capitol, they saw what appears to be Ayres joining the large crowd in the Senate lobby.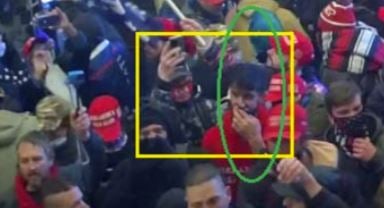 The FBI was able to identify Ayres through a witness that saw another picture on Ayres's social media of him and a group of people at the Lincoln Memorial wearing the same clothes. 
Ayers and Perna, along with five other people from the Valley have been indicted in connection with the Capitol insurrection.
Julia Jeanette Sizer of Ellwood City, Pennsylvania was sentenced to one year of probation and fined $2,000 after pleading guilty in November to one count of parading, demonstrating, and picketing in the Capitol Building.
Philip Vogel II and Debra Maimone, both of New Castle, Pennsylvania are each charged with theft of U.S. Property, entering the temporary residence of the president, disorderly conduct in a restricted building, and violent entry on Capitol grounds.
Rachel Powell, a mother of eight from Sandy Lake, Mercer County, Pennsylvania faces trial on charges including obstruction, destruction of US property over $1,000, entering a restricted building or property with a dangerous weapon, entering a restricted building/property, and disorderly conduct.
Kenneth Joseph Owen Thomas, 38, of East Liverpool, Ohio is charged with assaulting, resisting, or impeding certain officers; obstruction of law enforcement during civil disorder; and engaging in physical violence on Capitol grounds.