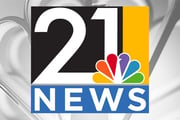 Indiana doctor faces discipline hearing over 10-year-old Ohio girl's abortion
An Indiana board is set to hear allegations that an Indianapolis doctor should face disciplinary action after she spoke publicly about providing an abortion to a 10-year-old rape victim from neighboring Ohio.
Thursday, May 25th 2023, 6:01 AM EDT
Some worshippers switching congregations amid United Methodist split over LGBTQ issues
Thousands of United Methodist congregations have been voting on whether to stay or quit one of the nation's largest denominations amid intractable debates over theology and the role of LGBTQ people.
Wednesday, May 24th 2023, 4:59 AM EDT
Prosecutors refile charges against officer in 2020 protest arrest after judge dismisses case
A Philadelphia judge dismissed all charges against a former police officer accused of assaulting a woman who accidentally drove a sport utility vehicle into a 2020 protest with her young son in the vehicle — but prosecutors quickly refiled the case.
Sunday, May 21st 2023, 7:25 AM EDT
Grand jury indicts man in 4 University of Idaho stabbing deaths, eliminating need for hearing
A grand jury has indicted a man who was already charged in the stabbing deaths of four University of Idaho students, allowing prosecutors to skip a planned week-long preliminary hearing that was set for late June.
Thursday, May 18th 2023, 5:18 AM EDT