News
Honda recalls 200,000 generators over fire hazard
If you're counting on a portable generator to get you through the next power outage, you might want to make sure it's not on a recall list
Thursday, March 21st 2019, 6:14 AM EDT
by
Updated:
Sunday, March 24th 2019, 12:06 PM EDT
If you're counting on a portable generator to get you through the next power outage, you might want to make sure it's not on a recall list
The Consumer Product Safety Commission has announced that 200,000 Honda portable generators are being recalled due to the possibility of fire and burns.
The CPSC says the Honda EU2200i, EU220i Companion and EB2200i portable generators can leak gasoline from the fuel valve, posing fire and burn hazards. Honda has received 19 reports of fuel leaking from the fuel valve. No injuries have been reported.
The recalled portable generators were sold with a red or Camo cover. The names "HONDA" and the generator model name are printed on the control panel. The serial number is located on a lower corner of one of the side panels of the generator.
The recalled generators were sold at authorized Honda Power Equipment dealers and Home Depot and other home improvement stores nationwide and online from February 2018 through February 2019 for about $1,100 to $1,300.
The following model numbers and serial number ranges are being recalled: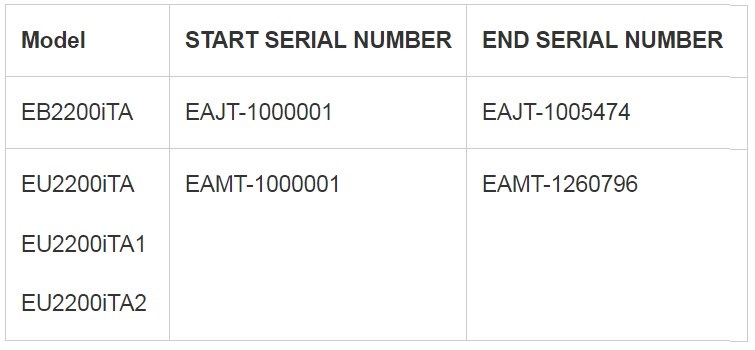 The CPSC says consumers should immediately stop using the recalled generators and contact a local authorized Honda Power Equipment service dealer to schedule a free repair. Honda is contacting all known purchasers directly.
For more information contact American Honda toll-free at 888-888-3139 from 8:30 a.m. to 7 p.m. ET Monday through Friday or online at https://powerequipment.honda.com/ and click on "Recalls and Updates" at the bottom of the page for more information.